The Q has been fortunate enough to grow this year, despite all of the less-than-ideal circumstances happening in the world. Our last addition for the year was our new intern, Jace. Jace is a Mechanical Engineering Technology major at Oklahoma State University, where he's on an academic scholarship. He's an incredibly bright student so it's no surprise that he's made quick work of all of the SOLIDWORKS case studies we've given him.
In case you don't know exactly what a SOLIDWORKS PDM internship looks like, it's a lot of learning. Getting your foundational understanding of SOLIDWORKS so you can eventually be an expert is like learning algebra before you move on to calculus; essential. Jace started by reading and performing activities from case studies and working his way through a book with specific exercises and learning objectives.
From the case studies, he moved onto designing and 3D printing some basics like his business card holder. We're fortunate enough to office in a business incubator, so we have access to resources like reduced cost 3D printing, among other cool stuff. After that, Tim has given him progressively more challenging projects. In early November, he created and 3D printed a buckle. His first attempt was a fail, but Tim's motto is "fail fast," so he had the next rendition printing before the end of the day. The second attempt was a success! It took a little bit of filing, but the pieces were functional and fit together. If you need any backpack repairs, Jace is your guy!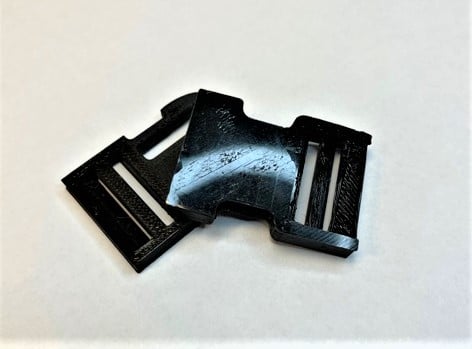 Tim also decided to take a swing at it and create his own buckle. His is a little bit larger than Jace's (and it's bright orange!), but it's functional after some filing as well! Tim's came from a preexisting template, which kept his design time to a minimum. In school, students are always required to design their own from scratch. This is great for learning technical skills in SOLIDWORKS, but it's important to also know that there are resources out there (like GrabCAD) and you should use them, that's what they are out there for!