When we say this company sucks, we mean it. Their technology lifts entire concrete slabs with suction! Vacuworx is a Tulsa-based international company. Their top priority is safety. They set the standard, and closely adhere to every safety protocol you can think of throughout the United States, Europe, and Australia. With the type of work they do, it's easy to see why this would be imperative. However, Vacuworx goes above and beyond and truly advocates for high standards of safety in their industry.
Vacuworx also has a unique sales structure that can help you make the leap to purchasing their products, or not! They have a short and long term rental program, "so you can fall in love at your own pace." Through their rental program, they have 24/7/365 service and technical support for installation, training, repairs, and troubleshooting so you're fully equipped for everything when renting a Vacuworx lifter. Their rental program is worldwide as well. If you love your lease, their rental program is easily converted into a Lease Purchase Option agreement. I think that any company that believes in their product enough to let you borrow it, try it, or sample it, usually has a pretty solid offering. You can also buy used. With all of these options, it's pretty obvious that Vacuworx is dedicated to meeting their customers where they are, and getting them the tools they need.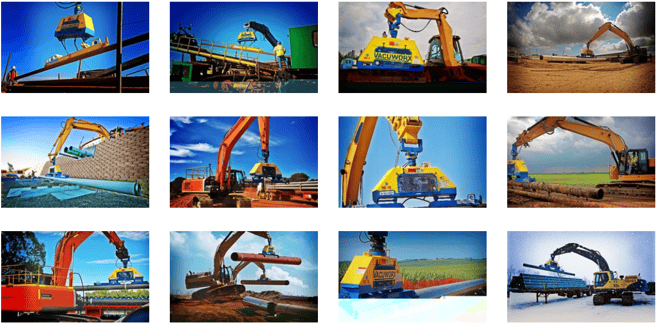 Vacuworx also works with a huge variety of industries. Their website lists oil & gas, water & sewer, highway & heavy construction, concrete construction, landscaping, and manufacturing. Realistically though, their ideal client is "anyone who needs to lift really heavy stuff."
Just how capable are Vacuworx lifters? Their vacuum seal holds until the operator activates the release, even in the event of power failure. The lifters have enhanced UV protection, the 360 seamless outer skin "resists abrasions and repels destructive oils and moisture," and the seal is engineered for temperatures up to 215°F and as low as -40°F. Basically, they're ready to work whenever you are, and are immensely safer than slings and chains.
The ROI on a Vacuworx machine is usually 6 months or less by making load and unload times much faster and safer, plus you're given the ability to take on more projects. That's honestly incredible for a tool that's as advance, safe, and capable as Vacuworx. It's worth it over, and over, and over! We're ready to buy one and we don't even have anything to lift!
They're really setting the standard for safety. They design, manufacture, test, and rate vacuum lifters in accordance with nearly 10 safety standards across the world. Their core values are focused on building trust, encouraging innovation, promoting safe practices, and creating an environment of educational growth. All of those core values are incredibly evident just by browsing their website.
All in all, we're big fans of Vacuworx. We think they're doing great things and setting even better standards and examples for the industry. They're great people, and it shows. If you ever have the chance to work with them, jump on it!
Do you want to be featured in our blog, or want to nominate someone who is doing some cool stuff? Send an email to our Marketing Content Manager, Katelin!