Hey y'all! More cool stuff I found on the internet. This week, I'll be talking about a site that can help small businesses cut costs on their prototyping by thousands, and get quotes in just a couple of hours! Based in Minnesota, they offer services like plastic injection molding, sheet metal fabrication, CNC machining, and 3D printing. They boast 1 million square feet of manufacturing space across 12 facilities in 5 countries, and serve over 50,000 customers every year.

Protolabs
Not so many years ago, it was common to pay $50,000 in tooling. That isn't the case any longer! Now, it's a simple four-step process to get your parts manufactured with precision and shipped to you. They've served major industries like medical, consumer electronics, automotive, aerospace and defense, and industrial equipment, so they're well-versed in just about anything you could send their way. They also have options to supply your own materials, and you can choose color options. Protolabs does a great job of allowing customers to get their prototypes made affordably, quickly, and customized exactly how they want without any compromise.
In fact, one of the reasons we so heavily believe in Protolabs is because we've used them. That's right, before Tim became a big bad CEO, he worked with Protolabs several times over the course of about ten years! You can check out Tim's portfolio on our website, as well as our injection molding design page. If you think it would benefit you to consult with an experienced injection molding design engineer, let us know! Tim is happy to provide free initial consultations.
Protolab has hundreds of materials to choose from, which really just blows our mind. It's hard to wrap your head around just how many materials and surface finishes that meet your human factors requirements you have to choose from, and on top of that, if you choose expedited shipping, you can get your design almost overnight.
They'll review your products before they manufacture your prototype to make sure everything will fit together properly. If it won't, they'll let you know. Their algorithm does things quickly, and you don't have to worry about contacting them. There is no sunk cost for sending a design with a flaw that won't function once it's built. An industrial engineer on staff will reach out and work with you to make the appropriate adjustments and get on with your prototype!
They have software that will map the flow of molten plastic to determine how well your part will fill. They will detect any thin sections, thick sections (sink), areas that need ribs, etc again before it's done to save you from dropping money on a faulty prototype. And as a final fail-safe, you have to approve the design so that you are deliberately pulling the trigger, with full disclosure of any changed that they recommend you make.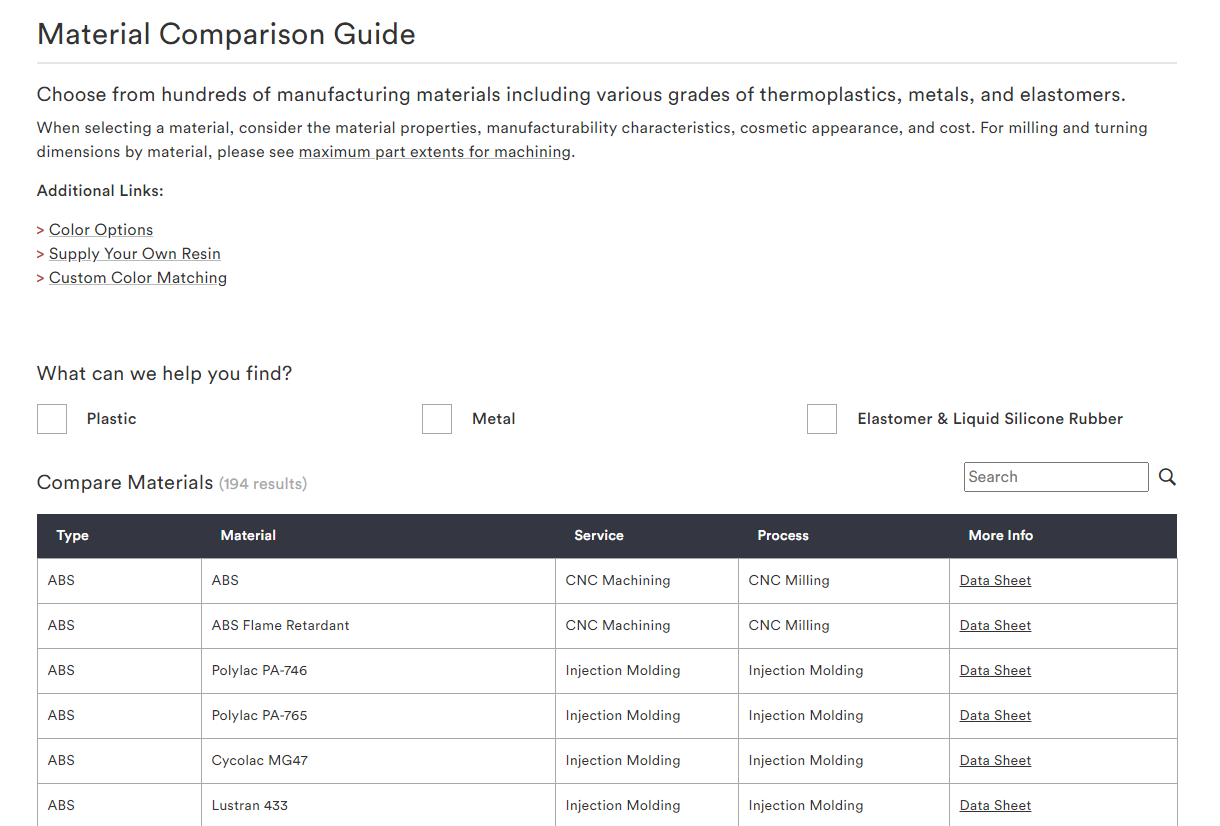 Protolabs gives customers access to a quick quoting process, and you can even view sample quotes on their website so you know what to expect. You can also request samples to give you a physical example of what you're signing up for.
Here's the free resources you can get from Protolab:
Physical examples:
Design cube
Demo mold
Injection molding material selector
Books:
Injection molding for dummies
We have two of their free physical examples, but they also offer a injection molding material selector that's a pocket-sized reference guide. They also have books and tons of other free resources, all on their website under the "resources" tab.
They run their business with a lot of transparency and desire to educate, which is something we also strive for at Equivaq. They have an entire page dedicated to manufacturing design tips, and they always have something new for readers to learn! I really like this whole company, from what they do, to their message, and beyond!
Our very favorite thing about Protolabs is the affordability. There was no way to get around spending the money to even determine if the part would fit! They have truly revolutionized the industry for small businesses and hobbyists by making prototyping accessible.