There's a million and one resources on how to work from home, but the real struggle has been transitioning back into the office. Sure, having a structured work day sounds better, but we miss our PJ's and unlimited snacks steps from our desk.. er.. couch. So here's some tips on how to transition back into the office after working at home.
If you're still working from home, check out the latest article from Katie Holmes at Outwit Trade!
#1. Pants
Unfortunately, the best part of working from home (no pants) is unacceptable when transitioning back to the office. Don't forget to try your pants on a few days in advance to going back to work, just in case the closet elves sewed them tighter while you were working from home.
#2. Pets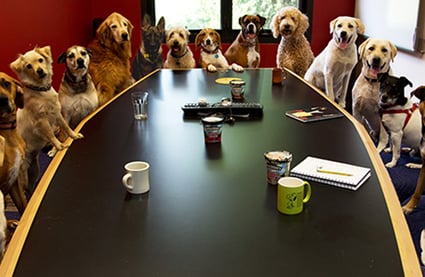 Start explaining to Fido and Fluffy that you'll be going back to work soon ahead of time. This will help them understand when the day comes. Be sure to break the news with treats or toys, to avoid the dreaded revenge-seeking Shoe Poop. Maybe even consider negotiating with your supervisor to make the office pet-friendly. It'll likely look like a zoo anyway with all of your coworkers being months out from their last haircut, and there are actually proven benefits of having pet-friendly office space, including reduced stress and added productivity.
If you have a cat, skip this step. He or she will be thrilled that you're finally giving them their house back. Maybe even leave a sorry note for them, set out some of your extra Amazon boxes from your rampant quarantine online shopping, and sprinkle some catnip on the windowsill.
#3 Caffeine is King
I think it's supposed to be "cash is king," but with the coin shortage going on, it's really easy to make the transition. No more naps between Zoom meetings, tack your commute time back on to your mornings, and invest in RedBull and Starbucks stock because, boy howdy, our sleep schedules are about to be disrupted.
#4 Don't Forget the Mask
The best part about the mask? It hides everything. Do you have dark circles? Mask. Did you forget to brush your teeth this morning? Gross. But not to worry! Thanks to your mask, only you will be able to smell that unfortunate mistake. Haven't shaved in long enough to make you look homeless? Nobody will know! Did you wait until this morning to shave, but you overslept and now it looks like you double as Edward Scissorhands? MASK! Not feeling too friendly this morning? Not to worry, you don't have to fake-smile at anybody when your mouth is covered. Oh, and helps slow the spread of COVID, which is also important.
#5 There's no Mute in Real Life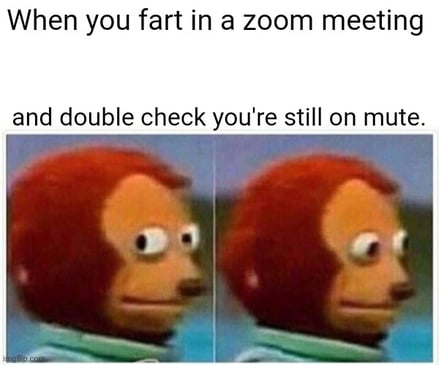 This might be the hardest part of returning to work. We've read so many stories of people muting Zoom calls to pass gas and then, when it's too late, discovering that they didn't actually mute themselves. If you're a mute-and-toot pro, we are begging you to be aware of your surroundings. There's no mute. There are other people in close proximity. Do not forget this.
#6 Wash Your Hands
We're still in the thick of a pandemic, so don't be gross. Make sure you're washing your hands regularly and maintaining distance from coworkers. Be considerate of each other, and take care of each other. Things aren't quite back to normal yet, but this is one step closer!
Good luck returning to the office, and remember, it's probably just as hard for your coworkers as it is for you. Unless they have toddlers, in which case they're probably thrilled to have a break from their tiny dictators!